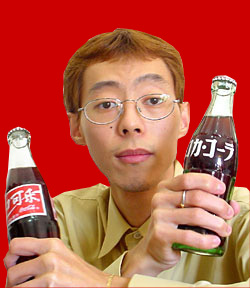 Hi. My name is Marcio Shigueo Yamauti. I live in Brazil. I'm 25 years old, and was born on Dec. 25th 1978.
I live in Sao Vicente city, state of Sao Paulo.
Sao Vicente is the first city to be founded in Brazil.
I'm graduated in Computer Science, and I'm owner of a Web Solutions Company.
I started collecting Coca-Cola since the end of 1996.
Now I have more than 3000 itens, including cans, bottles, posters, tv commercials, memorabilia, etc.
More focused in bottles and cans.
Besides Portuguese (of course -- the language spoken where i live!! ), I know English and a little bit of Japanese languages.
I love japanese animes and mangas such as Dragon Ball Z and Love Hina.
In literacture I like to read Stephen King's works.
This is me, in a japanese manga "SD" version, made by a friend of mine.
Nice, huh? :)