I have several friends around the world with whom I have traded so far.
Some of them are special people.
From left to right:
- Geraldo Gayoso: My best friend. and he also lives in Brazil. He is the biggest Coca-Cola collector in Latin America and 4th in the world.
- Me!
- Diego Sartori: Another best friend!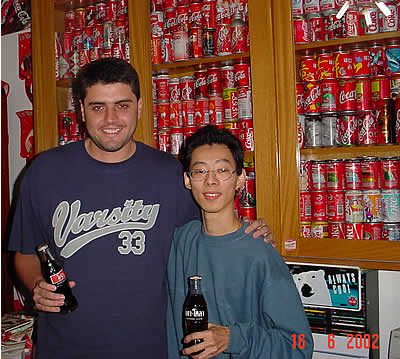 In June 15th 2002, I received a visit from Ricardo Diez Gallego, a Coca-Cola Collector and Friend from Colombia.
We have traded some cans and bottles.
I took him to make a tour in my city, and we had fun a lot!
Very nice guy! Gracias Ricardo!!
Now, I list the people who deserve to be here. I may have forgotten some of you, sorry, but there are so many people, and this page is going under construction...
Argentina
- Valentín Alejandro Manes
Australia
- Joy Chang
Brazil
- Diego Sartori
- Jonathan Parker
Canada
- Winnie Cheng
Colombia
- Richard Diez Gallego
Denmark
- Michael G. Nielsen
France
- Olivier Weissend
Germany
- Nils Jenrich
Hong Kong
- Danny Cheng
- Ronnie Wong
- Jay Lo
Japan
- Koyama Com
Netherlands
- Dirk Henst
- Marcel Schoonmade
New Zealand
- Matt Bishop
Spain
- Xavier Picarin Sagues
USA
- Piti Suteewong
- Steve Drye
Taiwan
- Chien Li-Dow
About Me | Bottles | Cans | Collection Pictures | My friends | Expo
Trade List | Wanted List | Interviews | E-mail | Home